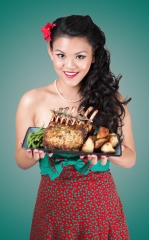 Hello! My name's Jackie – welcome to my food blog. I'm an ex-food writer & private caterer, sometime photographer and
Leiths Diploma
graduate, turned professional pastry chef. I've staged all over the UK at some of the best restaurants in the country, worked at one of the best 5* hotels in London and one of the most prestigious restaurants. I spent some time slinging desserts at a lovely restaurant in the city, then headed up the pastry at a small company in East London. You can now find me running all over town wherever good pastry is needed.I love to tell stories with food and I hope you enjoy reading them just as much.
My roots in food go far back – I was weaned off breast-milk and onto chicken soup. Somebody lovely once said that I am "a woman who knows her food", somebody else equally lovely once called me an "Asian gone wild" – I can think of no better way to sum me up. I have a BA Jt. Hons in American & English Studies, have lived in the UK, US & Asia, and have travelled extensively, which makes me a bit confusing but with a wealth of experience at my fingertips.
This blog and its contents were designed by me and built by DMP. All images and illustrations are copyrighted to me under a creative commons license, unless otherwise stated.
Got a question? Recommendation? Recipe? Just want to tell me that you love me? Well, what are you waiting for?! Send me an email already! Go on, let me feed you – you know you want me to.
Peace and love,
Jax x