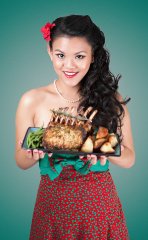 Hello! My name's Jackie – welcome to my food blog. I'm a freelance food writer, photographer, private caterer and Leiths Diploma graduate, based in London in the UK. I love to tell stories with food and I hope you enjoy reading them just as much.
My roots in food go far back – I was weaned off breast-milk and onto chicken soup. Somebody lovely once said that I am "a woman who knows her food", somebody else equally lovely once called me an "Asian gone wild" – I can think of no better way to sum me up. I have strong opinions which I'm not afraid to share; honesty and fairness go hand-in-hand with me. I've eaten at some of the best restaurants in the world and am on a continual mission to seek out wonderful food, whether it's street food tucked away down the back of an alley or Michelin starred and widely-lauded. I do not discriminate as to what or where, I only care that it's delicious.
I have a BA Jt. Hons in American & English Studies, have lived in the UK, US & Asia, and have travelled extensively. I freelance for various people around the world – you can find links to my work here. Unfortunately I am no longer able to take on any unpaid work except for in truly exceptional circumstances and I do not accept unsolicited guest posts and will not respond to such requests.
I am available for private chef work – for prices, questions, etc. please do get in touch with your requirements and I'll do my best to help in any way that I can.
This blog and its contents were designed by me and built by DMP. All images and illustrations are copyrighted to me under a creative commons license, unless otherwise stated.
Got a question? Recommendation? Recipe? Just want to tell me that you love me? Well, what are you waiting for?! Send me an email already! Go on, let me feed you – you know you want me to.
Peace and love,
Jax x